Chronicle Celebrations of the Relic 04-05/09/2021
PREPARACIÓ
The 8 of July se celebrà una Junta Ordinària de la Comissió de Festes de Sant Jordi, with the intention of assessing the situation of the Feasts of the Relic of St. George 2021. A continuació comissió i confraria emetien un comunicat conjunt signat per les presidentes de les dues entitats i informàvem de la suspensió de les Festes de la Relíquia de Sant Jordi 2021 i que la Confraria de Sant Jordi portaria a terme la celebració dels actes religiosos.
Els dies previs a la celebració de la festivitat de La Relíquia, la Junta Directiva ens reunírem per a preparar i organitzar els actes religiosos. The day 2 September al Temple Parroquial deixàvem muntat el dosser, cortines, reliquiari de fusta i suports per a les banderes de les filades i entitats musicals. The day 3 September quedaven engalanats amb garlandes florals l'Altar Major i l'Altar de Sant Jordi. Igual que per a les celebracions religioses de Sant Jordi al mes d'abril, repartírem tiquets per a controlar l'aforament del Temple Parroquial.
Per a commemorar el 241é aniversari de l'arribada de la Santa Relíquia de Sant Jordi Màrtir a Banyeres de Mariola, la junta directiva de la Confraria de Sant Jordi editàrem l'Himne a Sant Jordi Màrtir en format de paleta-ventall. La imatge utilitzada és una aquarel·la de la Relíquia i reliquiari, pintada per Manuel Granado i propietat de la Confraria. També vam publicar un llibret per seguir l'ofici de les Solemnes Primeres Vespres.
La vesprada del dissabte dia 4 September, va haver-hi dues celebracions al Temple Parroquial, una a les 18:00 h i l'altra a les 20:00 h, presidides per la Relíquia de Sant Jordi. En aquesta última d. Ramón Micó es va revestir amb la capa pluvial de Sant Jordi per tal d'oficiar les Primeres Solemnes Vespres a Sant Jordi Màrtir. Asseguts en uns tamborets davant dels primers bancs, i de cara a l'Altar Major, es trobaven d. Ramón Mico, els xiquets i les xiquetes acòlits, Antonio Pastor, Toni Sempere i Rafael Ferre. Ja en els bancs estaven col·locats les autoritats civils i del món de la festa, part de la junta directiva de la Confraria, Mayorals of Sant Jordi, captains, bandereres, presidents i presidentes de les filades i de les entitats musicals, commissioners, ambaixadors moro i cristià i fidels fins a completar l'aforament. Per a la celebració ens acompanyà la Coral Mariola i un grup de músics. En acabar la celebració la secretària, Macarena Albero, nomenà a Lolita Belda i al seu marit, mentre la presidenta els acompanyà a les cadires que tenien preparades al presbiteri. La secretària dirigí unes paraules d'agraïment pels anys dedicats a preparar les estovalles per l'altar de la Missa del Cementeri cada 25 d'abril i la presidenta l'obsequià amb un gravat del Guió de Sant Jordi. La junta directiva vam participar proclamant les lectures i el salm, arreplegant tiquets, repartint les paletes-ventalls amb l'Himne, llibret de les Primeres Vespres i desinfectant el temple. També muntàrem una paradeta al cancell del Temple Parroquial, amb articles del nostre catàleg i loteria per al sorteig de Nadal.
On Sunday 5, Festivitat de la Relíquia, va haver-hi quatre celebracions Eucarístiques: 8:00 h, 10:00 h, 11:30 h Missa Solemne i 19:00 h. Per a totes les celebracions ens guiàrem amb el mateix protocol que en les Primeres Vespres. A més de repartir la paleta-ventall de l'Himne a Sant Jordi en totes les Eucaristies, Miguel Albero Picó, jubilat d'arts gràfiques, imprimia per última vegada a la seua impremta ubicada a Biar, una tirada d'estampes i paletes-ventall amb una imatge de Sant Jordi. Seguint el seu desig, les vàrem obsequiar entre tots els assistents a la Missa Solemne. En la part del revers de la postal resa: "oli sobre coure de F. Sánchez Monzó, cedit, amb molt de gust, per Vicent Pérez. Obsequi de l'antiga Imprenta Albero, S.L. a la Confraria de Sant Jordi, estampat, a les acaballes de gener de 1999. 2a Estampació i, última, in 2021 amb permís del propietari". Ens sentim plenament agraïts pel seu valuós gest.
Per a la Missa Solemne del diumenge de la Relíquia de Sant Jordi, la junta de la Confraria vam convidar a d. Pablo Sanchis Cano, vicari de la Parròquia de Sant Josep d'Ontinyent, per a predicar i presidir la celebració. Junt amb ell concelebraren d. Ramón Micó Colomer i el Diaca d. Rodrigo Ferre Bodí. També ajudaren en l'Eucaristia Rafael Ferre, Toni Sempere i xiquets i xiquetes acòlits de la Primera Comunió. Per a la celebració l'oficiant es revestia amb el conjunt de la casulla roja de Sant Jordi. La Primera i Segona Lectura eren proclamades respectivament per un membre de la Filà Contra-bandistes, Alicia Jiménez Torres, i de la Filà Pirates, José Antonio Segura Beneyto, el salm cantat per la Coral Mariola i els músics que els acompanyaven, l'Evangeli pel diaca i els precs per Macarena Albero Cortés. Tot va ser retransmés en directe pel canal de Facebook de Ràdio Banyeres de Mariola i per Intercomarcal Televisió.
Després de l'Eucaristia i al pati de la Casa Abadia, la pirotècnia contractada per l'Ajuntament disparà una gran mascletada.
A continuació i sense acompanyament acudiren, l'alcalde, el predicador i la presidenta, a la Seu de la Confraria, perquè d. Pablo Sanchis Cano signara al Llibre d'Or de l'entitat. Allí esperaven, la Junta Directiva de la Confraria, els Majorals de Sant Jordi i d. Mico Ramon Colomer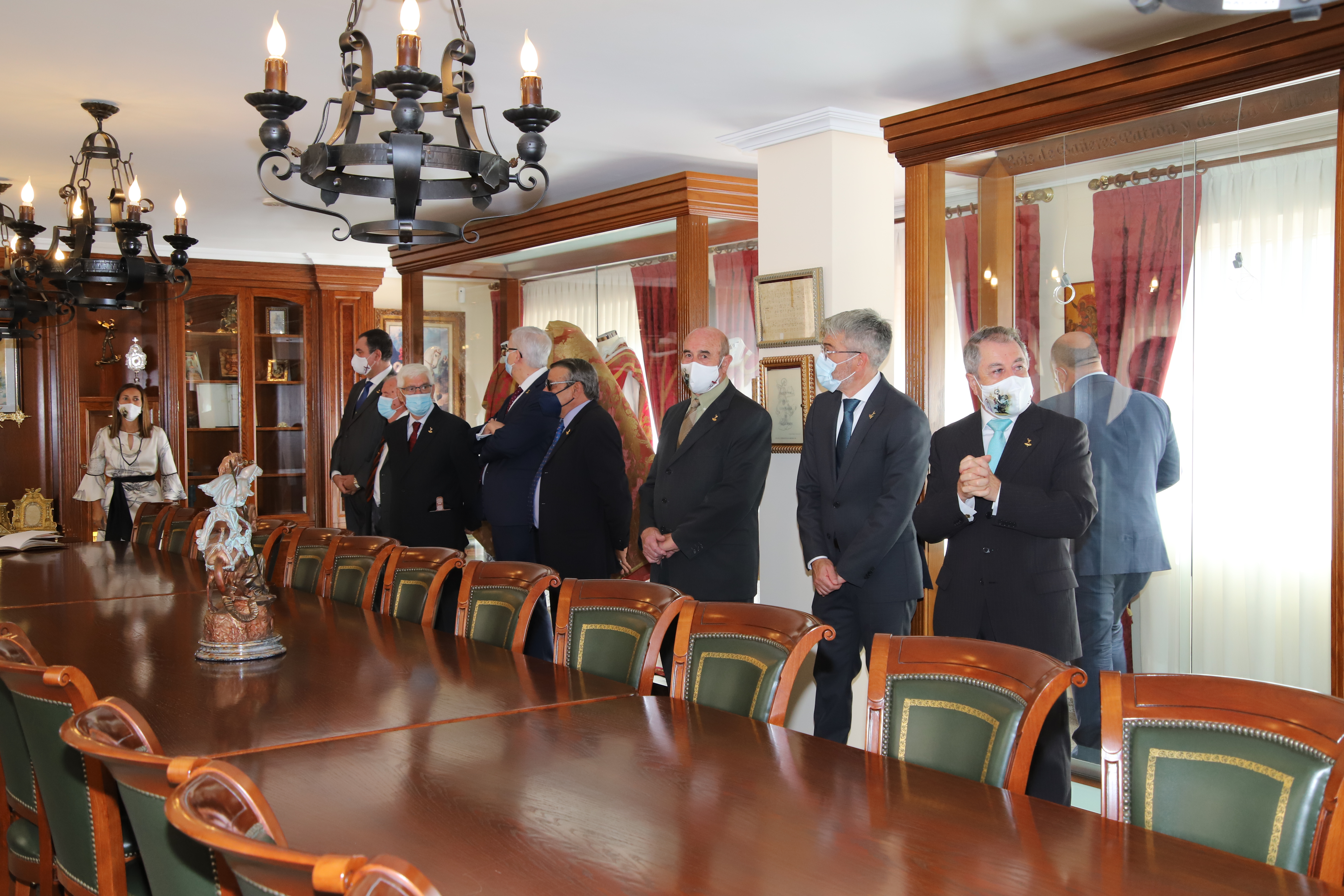 Després de la firma al Llibre d'Or, la presidenta obsequià el predicador, amb un gravat del Guió de Sant Jordi i s'acomiadava de tots els presents amb l'esperança que per a les festes de Sant Jordi de 2022, la crisi sanitària hi haja remés.
Ens sentim esperançats d'organitzar els actes religiosos de les festes de Moros i Cristians en Honor de Sant Jordi Màrtir 2022 per a que el poble de Banyeres de Mariola els puga compartir i gaudir amb harmonia.
Vítol to our Patron Saint George